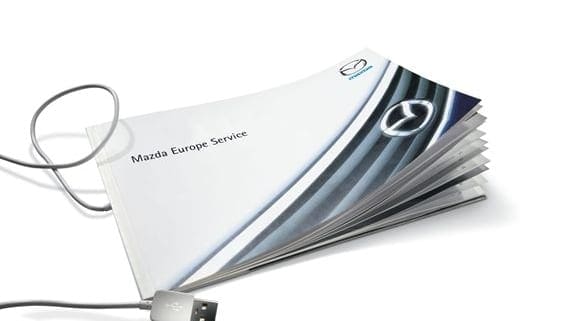 Many manufacturers have ditched the humble glovebox service book, moving towards online-based digital service records.
View the PDF article by clicking the image below
The last bolt has been tightened, you jump through the ever shrinking hoops of resetting the service reminder and go to stamp the logbook – but wait, where is the logbook?
A cloud looms overhead, but they didn't predict rain today, it's the other type of cloud – Cloud based storage Digital Service Records (DSR).
Way back in 2005 it was Mazda Europe that first introduced the Digital Service Record.  Unlike our Australian models, they did away with a paper logbook, allowing dealers and independent repairers alike to register for access to update records of maintenance.
Why the change, what's wrong with a stamp?
Consider the manufacturer as 'Big Brother' – they want to know everything and more – who currently owns the car, where it is, who is working on it and what they are doing.  Mazda alone have currently logged over 10 million DSR entries – that's a lot of data.
When Mrs Jones comes to an independent repair centre for servicing, Big Brother is left in the dark.  By logging everything electronically, the manufacturer can easily implement cost-effective customer based marketing strategies.
The spin off for the vehicle owner is the ability to access their records anywhere, anytime (sort of like a paper book that stays in the glovebox right?).  Apps like 'Mercedes Me' allow the owner to access their maintenance records, along with a whole host of genuinely useful features like a GPS vehicle locator so you can never lose your 3 ton Mercedes G Wagon in a carpark again.
The true goal of these apps is a foot in the door to the hub of an owner's life – their phone.  Any independent repairer worth their salt will be issuing service reminders, but now the manufacturer can too.  Even if they haven't seen the car since sale, they have accurate information on when and what that vehicle needs, to target marketing directly to that customer.
Implementation of Digital Service Records has been slower in Australia, but it will pick up pace as it really is a no brainer for manufacturers.
The lack of paper logbook is commonplace in Europe, with everyone from Land Rover through to Subaru going digital.  EU rules state that electronic service records should be accessible for update by independent garages, free of charge.  The reality is, the systems are often less than intuitive and require a reasonably sound level of IT knowledge to ensure that once you've found the manufacturers' DSR burrow hole you are using the right internet browser and Java version etc.
Toyota North America still supply a physical logbook, but also have a DSR which even allows the owner themselves to update with DIY repairs at home.
With every cloud, there is a silver lining.  This is a great way to elevate your workshop from the competition.  By staying ahead of the curve and obtaining access when possible, you show how tech savvy your workshop is.
For the manufacturer's not quite playing fair, many workshops are taking the opportunity to print out their own branded service book, a reasonably low cost idea to gain customer loyalty.
The AAAA states – 'it is likely that access to eLogbooks will be a feature of the new Mandatory Industry Code for Sharing Service and Repair information.  Until this new code is signed off by the government and becomes enforceable, it is recommended that workshops record the service and recommend that customers retain a copy in their glovebox. It's not ideal, but it's a stop gap measure to support consumers until the new Code is enacted.'
The TaT website OEM info resource, accessible from the main member homepage – www.tat.net.au – is a great source of knowledge on manufacturer specific information, including their portal web addresses.
TaT's current day to day use of DSR in Australia is as follows:
Volkswagen Audi Group
Access the specific manufacturer site (One set of Erwin login credentials will allow access to all) –
Once logged in follow these steps to log a service record on a suitable late model VAG vehicle:
Products and Services
Digital Service Schedule
Enter a valid late model VIN from that manufacturer
Open DSS
Create Maintenance Table
Follow the prompts to fill out the form and save a new record
Print record to show to customer
BMW/MINI
Last year we posted a video walking through the whole process of logging a BWM DSR –
On www.tat.net.au enter BMW AOS into the search bar
Or search BMW on The Automotive Technician Youtube page
BMW has since changed the registration options – if you choose independent repairer, you will notice Australia is not listed. Choose, User Group -> Other (Please justify your request), Australia will now be available in the Country dropdown box, you can then carry on registration from there.
It should be noted that updating the AOS site will update the DSR, but won't instantly update the service history that is viewable in the in-car centre screen menu – this in-car data can however be updated by a select few scan tools such as Autologic.
Jaguar Land Rover
Although we have first-hand knowledge of a handful of independents obtaining registration in Australia, attempts last year and recently have resulted in futile email responses ending with 'In the Australian market, we do not have Block Exemption like in Europe so we do not give anyone access'.  Where does this leave the customer?  We have lodged several incidences of these email trails with the AAAA and we recommend you do the same.
The reality is that Digital Service Records can be expected to creep in as the norm, and together as independents we need to be ahead of the curve before it becomes another reason for a customer to prefer visiting the dealer.  It may seem cumbersome and over the top compared to a logbook, but there are real benefits for all parties involved, providing we stick to our guns to obtain fair access, and charge accordingly for the extra time spent on each service, just as the dealers do.
We encourage you to direct any difficulties you have in access that affects your ability to provide a complete logbook service for your customer to info@aaaa.com.au, to continue the gathering of data in the Right To Repair campaign.
https://stevesorensenmechanical.com.au/wp-content/uploads/digital-service-records.jpg
384
574
Robyn Sorensen
https://stevesorensenmechanical.com.au/wp-content/uploads/Ssmech-logo-400x114.jpg
Robyn Sorensen
2020-04-02 20:41:29
2020-04-02 20:41:29
Digital Service Records